Displaying 1 - 10 of 88 results
QUEENSLAND HAIR & BEAUTY SALONS
Find Queensland hairdressers, beauty salons, nail salons & day spas
Top Ranked Businesses in Queensland
1
PLEASE CALL THE SALON FOR BOOKINGS 38329468
2/226 Leichhardt Street
,
Spring Hill
,
QLD
,
4000
,
Australia
Availability:
Select Book Now to make a booking.
2
Indulge in a little 'me time' soon with a visit to Uber Hair
Shop 2, 81 Goondoon St
,
Gladstone
,
Qld
,
4680
,
Australia
3
At Luxe Skin Boutique we are passionate about providing clinically proven treatments for a wide variety of skin concerns. This is complemented by a full range of beauty therapy services. We take pride in our boutique and look forward to welcoming you.
Shop G, 2-20 Shore Street West
,
Cleveland
,
Qld
,
4163
,
Australia
4
From the first time you enter the salon it is clear that our team at Ricochet welcomes you with a warm atmosphere to help you relax and achieve exactly what you are looking for.
Shop 35 Ground Floor Oais Shoping Center, 12 Charles Avenue
,
Broadbeach
,
Qld
,
4218
,
Australia
5
Groom Barbershop is more than a traditional Barbershop, delivering everything for all Men's Grooming needs.
Unit 2/ 176 Berserker St, Berserker
,
Rockhampton
,
Qld
,
4701
,
Australia
Availability:
Select Book Now to make a booking.
6
Savvy Hair Artistry is a boutique Hair salon located in Ashgrove.
3/15 Stewart Road
,
Ashgrove
,
QLD
,
4060
,
Australia
Availability:
Select Book Now to make a booking.
7
We offer a diverse range of natural therapies including Acupuncture, Massage, Reflexology, Ear Candling, Bowen Therapy, Reiki, Detox Foot Spas and EFT (Emotional Freedom Technique). We also stock a range of New Age Gifts.
Evergreen Lifestyle Centre, 12-18 Discovery Drive
,
North Lakes
,
QLD
,
4509
,
Australia
8
The thought of making someone feel and look amazing by transforming their hair is what excites us on a daily basis! We are passionate about all aspects of hairdressing and we just love our clients.
Shop 6/95 Old Cleveland Road
,
Capalaba
,
Qld
,
4157
,
Australia
9
Relax, unwind and be pampered, in the beautiful Tropical Far North Queensland. Palm Cove with its white sandy beach and cool ocean breeze, let the days float by and relax at Palm Cove Retreat Day Spa.
Mantra Amphora Hotel, 49-63 William Esplanade
,
Palm Cove
,
Qld
,
4879
,
Australia
10
Welcome to Aloki Skin! Led by our Medical Director, Dr Rowena, Aloki Skin prides itself on professional and honest advice to help you achieve realistic treatment goals.
72 Nathan Street
,
Vincent
,
Qld
,
4814
,
Australia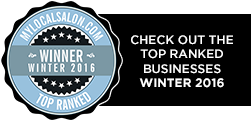 Click here to view interactive map
FAQ
What is mylocalsalon?
Offering the ultimate in convenience and technology, mylocalsalon enables you to search through hundreds of Australian hairdressing salons, beauty salons, spas and wellness centres ...
read more
How does the online booking work?
mylocalsalon is one of the only online directory sites for hair and beauty that is fully integrated with the booking system within each participating business. This means that when you make a booking online, you are making it directly into the salon's appointment book ...
read more
What happens when I register?
The first time you make a booking you will need to register with mylocalsalon. As part of the registration process you will need to accept the standard Terms and Conditions of mylocalsalon. Then, for every booking you will be required to accept the individual business' online booking Terms and Conditions, including their cancellation policy. ...
read more
Read all the FAQ's