Displaying 1 - 10 of 94 results
QUEENSLAND HAIR & BEAUTY SALONS
Find Queensland hairdressers, beauty salons, nail salons & day spas
Top Ranked Businesses in Queensland
1
53 Sydney Street
,
Mackay
,
QLD
,
4740
,
Australia
2
Welcome to Fresh Hair, where we pride ourselves on our extremely high standards and professional approach to everything we do.
Shop 4, 92 Hyde Road
,
Yeronga
,
Qld
,
4104
,
Australia
3
The thought of making someone feel and look amazing by transforming their hair is what excites us on a daily basis! We are passionate about all aspects of hairdressing and we just love our clients.
Shop 6/95 Old Cleveland Road
,
Capalaba
,
Qld
,
4157
,
Australia
4
At Luxe Skin Boutique we are passionate about providing clinically proven treatments for a wide variety of skin concerns. This is complemented by a full range of beauty therapy services. We take pride in our boutique and look forward to welcoming you.
Shop G, 2-20 Shore Street West
,
Cleveland
,
Qld
,
4163
,
Australia
5
Morningside Medispa is a luxurious full service beauty clinic with very skilled and professional staff providing injectables, facials, peels, waxing, eye lash extensions, cosmetic tattoo and teeth whitening
10/18 Thynne Road
,
Morningside
,
qld
,
4170
,
Australia
Availability:
Select Book Now to make a booking.
6
Located in the heart of Mt Isa, BellaObsessions hair has a country feel with a city style. Exclusive KCE member for KEUNE. We specialise in all of your hair care needs.
Shop 6, 23-25 Simpson Street
,
Mt Isa
,
Qld
,
4825
,
Australia
Availability:
Select Book Now to make a booking.
7
Indulge in a little 'me time' soon with a visit to Uber Hair
Shop 2, 81 Goondoon St
,
Gladstone
,
Qld
,
4680
,
Australia
8
Exceptional Quality Hairdressing
2/226 Leichhardt Street
,
Spring Hill
,
QLD
,
4000
,
Australia
Availability:
Select Book Now to make a booking.
9
We are Kalinga's, luxury Hair Care and Beauty Specialist salon. We create styles using our foiling, balayage, colouring and cutting techniques best suited to your individual needs and budget. We use the highest quality products for your services.
Shop 1/20 Shaw Road
,
Wooloowin
,
Qld
,
4030
,
Australia
10
FANTASTIC TREATMENTS - GREAT RESULTS - SPECIFIC PRODUCTS The combination of the three makes all the difference! If it is for an eyebrow wax or a luxurious treatment, we will put 100% into each and every client!
145 Stanley St
,
Townsville City
,
QLD
,
4810
,
Australia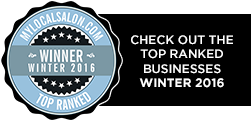 Click here to view interactive map
FAQ
What is mylocalsalon?
Offering the ultimate in convenience and technology, mylocalsalon enables you to search through hundreds of Australian hairdressing salons, beauty salons, spas and wellness centres ...
read more
How does the online booking work?
mylocalsalon is one of the only online directory sites for hair and beauty that is fully integrated with the booking system within each participating business. This means that when you make a booking online, you are making it directly into the salon's appointment book ...
read more
What happens when I register?
The first time you make a booking you will need to register with mylocalsalon. As part of the registration process you will need to accept the standard Terms and Conditions of mylocalsalon. Then, for every booking you will be required to accept the individual business' online booking Terms and Conditions, including their cancellation policy. ...
read more
Read all the FAQ's