Displaying 31 - 40 of 90 results
QUEENSLAND HAIR & BEAUTY SALONS
Find Queensland hairdressers, beauty salons, nail salons & day spas
Top Ranked Businesses in Queensland
1
Dorothy Jean Hair is a tranquil salon that provides high quality hairdressing services for the West End, Highgate Hill and inner Brisbane area. PH: 38448302
105B Gladstone Rd
,
Highgate Hill
,
Queensland
,
4101
,
Australia
Availability:
Select Book Now to make a booking.
2
Corner Woodward & Pease Streets, Shop 1
,
Edge Hill
,
Qld
,
4870
,
Australia
3
Welcome to Fresh Hair, where we pride ourselves on our extremely high standards and professional approach to everything we do.
Shop 4, 92 Hyde Road
,
Yeronga
,
Qld
,
4104
,
Australia
4
Scared of a Change, Feel like a Fresh Color, Are you Chasing something New? or Need some time to Relax....
Shop 3, 8 Martha Street
,
Camp Hill
,
Qld
,
4152
,
Australia
5
Specialising in anti-wrinkle injections, dermal filler, cosmetic tattooing, advanced skin treatments, laser, fat freezing, teeth whitening, lashes and more!
Redlands Centre Point, Shop 1A, 8-16 Redland Bay Rd
,
Capalaba
,
QLD
,
4157
,
Australia
Availability:
Select Book Now to make a booking.
6
Rixon Hair is a Brisbane based haircare brand founded in 2000 by Brad and Sharon Rixon located in the heart of Brisbane CBD.
Level 1, 106 Edward Street
,
Brisbane
,
Qld
,
4000
,
Australia
7
The thought of making someone feel and look amazing by transforming their hair is what excites us on a daily basis! We are passionate about all aspects of hairdressing and we just love our clients.
Shop 6/95 Old Cleveland Road
,
Capalaba
,
Qld
,
4157
,
Australia
8
COBELLE CREATIVE (formerly Stelios Papas Toowong) Owned by one of Australia's best colourists Kristie Kesic, this new brand is made up of a collaborative group of creatives specialising in blondes, balayage and precision and creative cutting.
9 Sherwood Road, Level 1,Shop 12 Toowong Shopping Village
,
Toowong
,
Qld
,
4066
,
Australia
9
Tranquility Beauty Salon Mt Ommaney
Shop 128 Mt Ommaney Centre, 171 Dandenong Road
,
Mt Ommaney
,
Queensland
,
4074
,
Australia
10
Spa Botanica, the multi award winner of the prestigious Tourism Awards for Excellence, leads the way in day spa service. Spa Botanica is a haven of luxurious comfort, with an undeniable sense of style.
Oaks Resort & Spa, Hibiscus Street
,
Hervey Bay
,
Qld
,
4655
,
Australia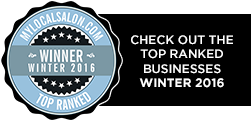 Click here to view interactive map
FAQ
What is mylocalsalon?
Offering the ultimate in convenience and technology, mylocalsalon enables you to search through hundreds of Australian hairdressing salons, beauty salons, spas and wellness centres ...
read more
How does the online booking work?
mylocalsalon is one of the only online directory sites for hair and beauty that is fully integrated with the booking system within each participating business. This means that when you make a booking online, you are making it directly into the salon's appointment book ...
read more
What happens when I register?
The first time you make a booking you will need to register with mylocalsalon. As part of the registration process you will need to accept the standard Terms and Conditions of mylocalsalon. Then, for every booking you will be required to accept the individual business' online booking Terms and Conditions, including their cancellation policy. ...
read more
Read all the FAQ's