Displaying 31 - 40 of 91 results
QUEENSLAND HAIR & BEAUTY SALONS
Find Queensland hairdressers, beauty salons, nail salons & day spas
Top Ranked Businesses in Queensland
1
What Does Bespoke stand for? *Tailor made to suit your needs *Be individual *As you like it
Shop 1A 743 Ann Street
,
Fortitude Valley
,
QLD
,
4006
,
Australia
2
Welcome to Fresh Hair, where we pride ourselves on our extremely high standards and professional approach to everything we do.
Shop 4, 92 Hyde Road
,
Yeronga
,
Qld
,
4104
,
Australia
3
Specialising in anti-wrinkle injections, dermal filler, cosmetic tattooing, advanced skin treatments, laser, fat freezing, teeth whitening, lashes and more!
Redlands Centre Point, Shop 1A, 8-16 Redland Bay Rd
,
Capalaba
,
QLD
,
4157
,
Australia
Availability:
Select Book Now to make a booking.
4
Relax, unwind and be pampered, in the beautiful Tropical Far North Queensland. Palm Cove with its white sandy beach and cool ocean breeze, let the days float by and relax at Palm Cove Retreat Day Spa.
Mantra Amphora Hotel, 49-63 William Esplanade
,
Palm Cove
,
Qld
,
4879
,
Australia
Availability:
Select Book Now to make a booking.
5
COBELLE CREATIVE (formerly Stelios Papas Toowong) Owned by one of Australia's best colourists Kristie Kesic, this new brand is made up of a collaborative group of creatives specialising in blondes, balayage and precision and creative cutting.
9 Sherwood Road, Level 1,Shop 12 Toowong Shopping Village
,
Toowong
,
Qld
,
4066
,
Australia
6
3/38 Thomas Drive
,
Chevron Island
,
Queensland
,
4217
,
Australia
Availability:
Select Book Now to make a booking.
7
Our amazing team at Absolute Skin and Body Clinic pride ourselves on outstanding treatments, results driven equipment, innovative skin care products and the most current advice and education for your skin and body.
Shop 3, 459 Old Cleveland Road
,
Camp Hill
,
Qld
,
4152
,
Australia
8
Spa Botanica, the multi award winner of the prestigious Tourism Awards for Excellence, leads the way in day spa service. Spa Botanica is a haven of luxurious comfort, with an undeniable sense of style.
Oaks Resort & Spa, Hibiscus Street
,
Hervey Bay
,
Qld
,
4655
,
Australia
9
Luke Reynolds Hairdressing is located in the hub of New Farm. We are a small luxury boutique salon with a warm and inviting feel.
Shop 3/21 Barker St
,
New Farm
,
QLD
,
4005
,
Australia
10
We offer a diverse range of natural therapies including Acupuncture, Massage, Reflexology, Ear Candling, Bowen Therapy, Reiki, Detox Foot Spas and EFT (Emotional Freedom Technique). We also stock a range of New Age Gifts.
Evergreen Lifestyle Centre, 12-18 Discovery Drive
,
North Lakes
,
QLD
,
4509
,
Australia
Availability:
Select Book Now to make a booking.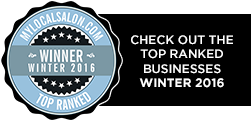 Click here to view interactive map
FAQ
What is mylocalsalon?
Offering the ultimate in convenience and technology, mylocalsalon enables you to search through hundreds of Australian hairdressing salons, beauty salons, spas and wellness centres ...
read more
How does the online booking work?
mylocalsalon is one of the only online directory sites for hair and beauty that is fully integrated with the booking system within each participating business. This means that when you make a booking online, you are making it directly into the salon's appointment book ...
read more
What happens when I register?
The first time you make a booking you will need to register with mylocalsalon. As part of the registration process you will need to accept the standard Terms and Conditions of mylocalsalon. Then, for every booking you will be required to accept the individual business' online booking Terms and Conditions, including their cancellation policy. ...
read more
Read all the FAQ's