Displaying 21 - 30 of 91 results
QUEENSLAND HAIR & BEAUTY SALONS
Find Queensland hairdressers, beauty salons, nail salons & day spas
Top Ranked Businesses in Queensland
1
Our skilled hairdressers at Unique PHD strive to make every guest feel pampered while we create the beautiful hair you deserve. Our experienced hairdressers provide a variety of high-end services in at affordable prices. AfterPay & ZipPay Available.
Shop 3/59 Brisbane Road
,
Redbank
,
Queensland
,
4300
,
Australia
Availability:
Select Book Now to make a booking.
2
Celebrating the latest in skin care, the team at Ella Baché offer an extensive range of treatments focusing on skin solutions as individual as you are. Part of a leading network of elite Ella Baché salons, we provide a full range of services and products.
Shop 3, Cleveland Town Square, Cnr Queen And Bloomfield Streets
,
Cleveland
,
Qld
,
4163
,
Australia
3
Bohemia Hair Lounge owned and operated by a very friendly sister duo.
Shop T2, 2 Tournament Drive, Brookwater Village Shopping Centre
,
Brookwater
,
Queensland
,
4300
,
Australia
4
Welcome to The Skin Fitness Clinic we are highly trained and qualified paramedical aestheticians. Are committed to providing you with the ultimate cosmetic procedures using the latest in technology and products.
Located Inside Clem Jones Centre, 56 Zahel St
,
Carina
,
Qld
,
4152
,
Australia
5
L.A Hair Designs is Toowoomba's exclusive certified Hairdreams and REDKEN salon. All of our stylists are hand-picked to meet a very high standard and are highly trained in REDKEN. We are 1 in 12 salons Australia wide to stock Hairdreams laser extensions.
156-158 Spring Street, Corner Of Spring And Ramsay Streets
,
Middle Ridge
,
Qld
,
4350
,
Australia
Availability:

6
When your hair needs divine intervention...
Shop 5, 86 Woodward Street
,
Cairns
,
QLD
,
4870
,
Australia
7
Dorothy Jean Hair is a tranquil salon that provides high quality hairdressing services for the West End, Highgate Hill and inner Brisbane area. PH: 38448302
105B Gladstone Rd
,
Highgate Hill
,
Queensland
,
4101
,
Australia
Availability:
Select Book Now to make a booking.
8
8 Sussex Street
,
Browns Plains
,
Qld
,
4118
,
Australia
9
welcome to Couture for Hair and Beaute
74 Seaworld Drive
,
Main Beach
,
Qld
,
4217
,
Australia
10
We are Moorooka's most experienced L'Oreal Professionnel Hair salon with over 17yrs experience. We are a LOreal Professionnel hair salon and also specialise in the Curly Girl Method.
5 Currey Avenue, Shop 2
,
Moorooka
,
Qld
,
4105
,
Australia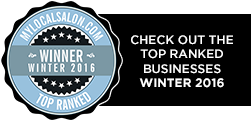 Click here to view interactive map
FAQ
What is mylocalsalon?
Offering the ultimate in convenience and technology, mylocalsalon enables you to search through hundreds of Australian hairdressing salons, beauty salons, spas and wellness centres ...
read more
How does the online booking work?
mylocalsalon is one of the only online directory sites for hair and beauty that is fully integrated with the booking system within each participating business. This means that when you make a booking online, you are making it directly into the salon's appointment book ...
read more
What happens when I register?
The first time you make a booking you will need to register with mylocalsalon. As part of the registration process you will need to accept the standard Terms and Conditions of mylocalsalon. Then, for every booking you will be required to accept the individual business' online booking Terms and Conditions, including their cancellation policy. ...
read more
Read all the FAQ's