Displaying 1 - 10 of 126 results
VICTORIA HAIR & BEAUTY SALONS
Find Victoria hairdressers, beauty salons, nail salons & day spas
Top Ranked Businesses in Victoria
1
A place to enjoy professional salon services located in a cosy and welcoming location in Lilydale where nature and beauty blends perfectly together
36A Hardy Street
,
Lilydale
,
Vic
,
3140
,
Australia
2
Hair styling for all ages, up to date styles Blonding specialists Friendly staff and affordable pricing Retail products to suit individual needs.
39 Indi Avenue
,
Red Cliffs
,
Vic
,
3496
,
Australia
3
From our Chapel Street location RespeKt your HAiR has been providing a fantastic range of styling services for over six years. Our team has decades of experience as stylists and we continually provide our clients with beautiful styling solutions.
55 Chapel Street
,
Windsor
,
Vic
,
3181
,
Australia
4
For complete balance of mind, body, hair & skin care. Fully qualified Hair dressers & beauty therapists provide a wealth of knowledge and will take care of all your hair and beauty needs.
137 Mollison Street
,
Bendigo
,
Vic
,
3550
,
Australia
Availability:
Select Book Now to make a booking.
5
Listed by Marie Claire magazine as one of Australia's Best Hair Salons. Yoshiko consist a of select team of Awarded Hairdressers. Educators & Guest Artists who's work has published across the globe. As featured in L'Oreal Australia's #Blondefident .
12/60 Fitzroy Street
,
St Kilda
,
Vic
,
3182
,
Australia
6
As a boutique hair salon we pride ourselves on providing an intimate, unique and fun experience so that we can tailor your hair design to your desires. Our aim is to help you feel amazing everyday!
352 Bay Street
,
Brighton
,
Vic
,
3186
,
Australia
7
Unlike other skin care centres, salons and spas, Beauty Salon Colac practise the highest form of team service. This means that the skills of our entire team are available to you. Meeting your service needs and busy schedule is our top priority.
366 Murray Street
,
Colac
,
Vic
,
3250
,
Australia
8
Tumi is about indulging in the beauty experience. We serve real coffee, a herbal or naturopathic tea and even a glass of wine. Our music has been hand picked for your listening pleasure, our chairs designed for comfort, you will love our scalp massage.
414 Bridge Road
,
Richmond
,
Vic
,
3121
,
Australia
9
Baxter Melbourne is the newest and coolest name in town.
28 Horne Street
,
Elsternwick
,
Vic
,
3185
,
Australia
10
Amanda is an eyebrow shaping specialist and cosmetic tattooist. It has been a passion of her's for over 30 yrs . ONLINE BOOKINGS ARE NOT AVAILABLE PLEASE EMAIL OR PH.
281 Bay St
,
Brighton
,
Vic
,
3186
,
Australia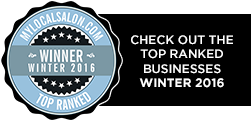 Click here to view interactive map
FAQ
What is mylocalsalon?
Offering the ultimate in convenience and technology, mylocalsalon enables you to search through hundreds of Australian hairdressing salons, beauty salons, spas and wellness centres ...
read more
How does the online booking work?
mylocalsalon is one of the only online directory sites for hair and beauty that is fully integrated with the booking system within each participating business. This means that when you make a booking online, you are making it directly into the salon's appointment book ...
read more
What happens when I register?
The first time you make a booking you will need to register with mylocalsalon. As part of the registration process you will need to accept the standard Terms and Conditions of mylocalsalon. Then, for every booking you will be required to accept the individual business' online booking Terms and Conditions, including their cancellation policy. ...
read more
Read all the FAQ's