Displaying 1 - 10 of 91 results
VICTORIA HAIR & BEAUTY SALONS
Find Victoria hairdressers, beauty salons, nail salons & day spas
Top Ranked Businesses in Victoria
1
Hair styling for all ages, up to date styles Blonding specialists Friendly staff and affordable pricing Retail products to suit individual needs.
39 Indi Avenue
,
Red Cliffs
,
Vic
,
3496
,
Australia
2
A boutique Makeup, Hair and Skin Studio, providing our clients with an individual and unique experience.
4-7, 507 Main Street
,
Mordialloc
,
VIC
,
3195
,
Australia
Availability:
Select Book Now to make a booking.
3
Jeanette Rowe and her friendly team of stylists committed to great customer service and even better hair! We exclusively use Matrix colours and retail products. Come see us!
44 Thompson Street
,
Terang
,
Vic
,
3264
,
Australia
4
Bella Skin Health Clinic is dedicated to providing the highest quality non-surgical medical services. Traditional beauty therapy provided in a luscious comfort and relaxing environment will leave you feeling revitalized and can achieve impressive results.
Shop 6310, 120-200 Rosamond Road
,
Maribyrnong
,
Vic
,
3032
,
Australia
5
WAX & CO. CLINIC specialising in the art of Brazilian and total body waxing. With over 10 years experience we are committed to delivering gentle and thorough results in a clean, hygienic and no judgement environment.
2A, 59 Painted Hills Road
,
Doreen
,
VIC
,
3754
,
Australia
6
Bellus Studio Beauty and Skin Clinic Offer affordable Aesthetic and Beauty Services by a University Qualified Dermal Clinician. Using Professional Products such as Dermalogica, Aspect & Cosmedix Skin Care and Colorescience Mineral Makeup.
68 Mackay Street
,
Rochester
,
Vic
,
3561
,
Australia
7
FUR HAIRDRESSING is committed to maintaining the highest level of technical skill and expertise to ALL clients. Our stylists reject tenuous trends of the time, looking instead to the past and the future for our inspiration.
236 Brunswick Street
,
Fitzroy
,
Vic
,
3065
,
Australia
8
Listed by Marie Claire magazine as one of Australia's Best Hair Salons. Yoshiko consist a of select team of Awarded Hairdressers. Educators & Guest Artists who's work has published across the globe. As featured in L'Oreal Australia's #Blondefident .
12/60 Fitzroy Street
,
St Kilda
,
Vic
,
3182
,
Australia
9
Is a professional beauty salon in Wonthaggi – the heart of the bass coast. We offer an extensive range of beauty services. We are passionate about delivering holistic treatments and personal care to create perfect harmony within the inner and outer self.
Shop 5, 33-39 Mcbride Avenue
,
Wonthaggi
,
Vic
,
3995
,
Australia
Availability:
Select Book Now to make a booking.
10
The DOC Clinic is a medical based Cosmetic Clinic located in Hoppers Crossing, Western Melbourne. We aim to enhance our clients confidence, self-esteem and the ability to be their personal best.
302 Heaths Road
,
Hoppers Crossing
,
Vic
,
3029
,
Australia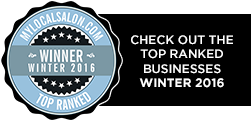 Click here to view interactive map
FAQ
What is mylocalsalon?
Offering the ultimate in convenience and technology, mylocalsalon enables you to search through hundreds of Australian hairdressing salons, beauty salons, spas and wellness centres ...
read more
How does the online booking work?
mylocalsalon is one of the only online directory sites for hair and beauty that is fully integrated with the booking system within each participating business. This means that when you make a booking online, you are making it directly into the salon's appointment book ...
read more
What happens when I register?
The first time you make a booking you will need to register with mylocalsalon. As part of the registration process you will need to accept the standard Terms and Conditions of mylocalsalon. Then, for every booking you will be required to accept the individual business' online booking Terms and Conditions, including their cancellation policy. ...
read more
Read all the FAQ's