Displaying 1 - 10 of 73 results
VICTORIA HAIR & BEAUTY SALONS
Find Victoria hairdressers, beauty salons, nail salons & day spas
Top Ranked Businesses in Victoria
1
Conversations spill and connect; wines flow and fill, with good hands tailoring boho waves and tight fades. Plumage is a salon like no other; attuned to our client's needs providing a personally tailored service, valuing honesty, trust and open dialogue.
198 High Street
,
Kew
,
VIC
,
3101
,
Australia
Availability:
Select Book Now to make a booking.
2
Jeanette Rowe and her friendly team of stylists committed to great customer service and even better hair! We exclusively use Matrix colours and retail products. Come see us!
44 Thompson Street
,
Terang
,
Vic
,
3264
,
Australia
3
Local, friendly and professional salon with top of the range L'oreal hair colour and Olaplex.
52 Turner Road, Shop 2
,
Langwarrin
,
VIC
,
3910
,
Australia
Availability:
Select Book Now to make a booking.
4
314-336 Bourke St
,
Melbourne
,
VIC
,
3000
,
Australia
5
Welcome to angel 11 beauty therapy. You can be confident in the knowledge that the services and treatments you receive will be extremely professional and of the highest quality.
6 Eden Avenue
,
Skye
,
Victoria
,
3977
,
Australia
Availability:
Select Book Now to make a booking.
6
Hair styling for all ages, up to date styles Blonding specialists Friendly staff and affordable pricing Retail products to suit individual needs.
39 Indi Avenue
,
Red Cliffs
,
Vic
,
3496
,
Australia
7
Blush Me is a nail and beauty salon that is locally owned and has been operating since 2001, with well over 30 years combined experience in all areas.
3/176 High Street
,
Wodonga
,
Vic
,
3690
,
Australia
8
Amanda is an eyebrow shaping specialist and cosmetic tattooist. It has been a passion of her's for over 30 yrs . ONLINE BOOKINGS ARE NOT AVAILABLE PLEASE EMAIL OR PH.
281 Bay St
,
Brighton
,
Vic
,
3186
,
Australia
9
Lekeyah Skin Rejuvenation Skin Rejuvenation/Relaxation/Laser Clinic/Hair Studio Experience the Journey
39 Kay Street
,
Traralgon
,
VIC
,
3844
,
Australia
10
Beautyologist: Qualified, Researched, Perfected. Facials, waxing, spray tans, body treatments, eyelash extensions, manicures, pedicures… it's all about pure beauty in St Kilda!
181 Carlisle Street
,
St Kilda East
,
Vic
,
3183
,
Australia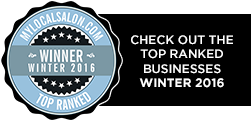 Click here to view interactive map
FAQ
What is mylocalsalon?
Offering the ultimate in convenience and technology, mylocalsalon enables you to search through hundreds of Australian hairdressing salons, beauty salons, spas and wellness centres ...
read more
How does the online booking work?
mylocalsalon is one of the only online directory sites for hair and beauty that is fully integrated with the booking system within each participating business. This means that when you make a booking online, you are making it directly into the salon's appointment book ...
read more
What happens when I register?
The first time you make a booking you will need to register with mylocalsalon. As part of the registration process you will need to accept the standard Terms and Conditions of mylocalsalon. Then, for every booking you will be required to accept the individual business' online booking Terms and Conditions, including their cancellation policy. ...
read more
Read all the FAQ's