Displaying 1 - 10 of 76 results
NEW SOUTH WALES HAIR & BEAUTY SALONS
Find New South Wales hairdressers, beauty salons, nail salons & day spas
Top Ranked Businesses in New South Wales
1
Rouge Beauty Therapy welcomes you to our salon, our professional beauty therapists offer a high standard of customer service in a friendly comfortable enviroment.
139 Vincent Street
,
Cessnock
,
NSW
,
2325
,
Australia
2
You can book Murphy Gozzard Hair Community Paddington online using our Book Now button located above. Select from a list of services offered, pick your favourite Murphy Gozzard Hair Community staff member and book from dates available.
447 Oxford Street
,
Paddington
,
NSW
,
2021
,
Australia
Availability:
Select Book Now to make a booking.

3
Welcome to Cloud9 Skin & Beauty. We offer high quality and professional beauty treatments by senior and passionate therapists
27 Auburn Street
,
Moree
,
NSW
,
2400
,
Australia
4
Located in the small coastal town of Huskisson on the South Coast of NSW, Beautyluscious is the perfect place to indulge in one of our many spa treatments available. A time for you to relax and enjoy our beautiful salon and all it has to offer.
Shop 2/39 Owen Street
,
Huskisson
,
NSW
,
2540
,
Australia
5
Gallo Hair is one of Sydney's premier boutique salons and we pride ourselves on providing a supreme level of care and service to our clients and their hair.
132 Crown Street
,
East Sydney
,
NSW
,
2010
,
Australia
6
Bespoke aesthetic clinic located in Lugarno. Specialising in laser hair removal for both male and female. Medical Grade skin treatments (Laser Rejuvenation, Chemical Peels & HydraFacials), Cosmetic Injectables. Stockists of Tebiskin and Jane Iredale.
Shop 2/1012 Forest Road
,
Lugarno
,
NSW
,
2210
,
Australia
8
Vesna Dacic is a qualified and highly skilled technician who will work with you to create a look you will love. She specialises in Colours & Highlights, Cuts & Styling, Hair Extensions and more.
1/114 Glover Street
,
Mosman
,
NSW
,
2088
,
Australia
9
Located across from Pymble Train Station, Hair Traits is an award winning established hair salon specialising in all aspects of hairdressing. 94407004
91 Grandview Street
,
Pymble
,
NSW
,
2073
,
Australia
Availability:
Select Book Now to make a booking.
10
LARGE LOCAL FRIENDLY SALON THAT DOES EVERTHING. WE HAVE GOLDWELL, REDKEN HAIR PRODUCTS AND NAPOLEON MAKEUP ALSO ALPHA-H SKIN CARE. ALL STAFF ARE HIGHLY TRAINED AND DO ALL AREAS OF HAIR AND SKIN CARE. WE ALSO DO SPRAY TANS,GREAT LENGTHS HAIR EXTENSIONS.
33 Dowe Street
,
Tamworth
,
NSW
,
2340
,
Australia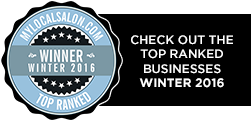 Click here to view interactive map
FAQ
What is mylocalsalon?
Offering the ultimate in convenience and technology, mylocalsalon enables you to search through hundreds of Australian hairdressing salons, beauty salons, spas and wellness centres ...
read more
How does the online booking work?
mylocalsalon is one of the only online directory sites for hair and beauty that is fully integrated with the booking system within each participating business. This means that when you make a booking online, you are making it directly into the salon's appointment book ...
read more
What happens when I register?
The first time you make a booking you will need to register with mylocalsalon. As part of the registration process you will need to accept the standard Terms and Conditions of mylocalsalon. Then, for every booking you will be required to accept the individual business' online booking Terms and Conditions, including their cancellation policy. ...
read more
Read all the FAQ's