Displaying 1 - 10 of 65 results
NEW SOUTH WALES HAIR & BEAUTY SALONS
Find New South Wales hairdressers, beauty salons, nail salons & day spas
Top Ranked Businesses in New South Wales
1
130 Stafford Street
,
Penrith
,
NSW
,
2750
,
Australia
2
Fuze is Dubbo's premiere hairdressing destination. We offer all aspects of cutting, colouring, and styling for men,women and children of all ages. We strive to provide the very best of service and client satisfaction.
57 Boundary Road, B
,
Dubbo
,
NSW
,
2830
,
Australia
3
The ReVamp Rooms premium beauty salon, is located in one of Randwick's most iconic places, The Spot. The salon is run by Julie, who has 17 years experience, and specialises in bespoke skin treatments, including teen and oncology clients.
48 St Pauls Street
,
Randwick
,
NSW
,
2031
,
Australia
4
Gallo Hair is one of Sydney's premier boutique salons and we pride ourselves on providing a supreme level of care and service to our clients and their hair.
132 Crown Street
,
East Sydney
,
NSW
,
2010
,
Australia
5
Welcome to Cloud9 Skin & Beauty. We offer high quality and professional beauty treatments by senior and passionate therapists
27 Auburn Street
,
Moree
,
NSW
,
2400
,
Australia
Availability:
Select Book Now to make a booking.
6
Alicias beauty Room is a Beauty Salon located in Penrith. Specialising in Waxing, Spray Tanning, Facials, Massage and Makeup.. We take pride in our work and look after every client as i would if i was looking after myself..
Shop11, 541 High Street
,
Penrith
,
NSW
,
2750
,
Australia
7
Langhana Spa | AVEDA Exclusive Spa located at Georges Hall in Sydney's West.
3 Haig Avenue
,
Georges Hall
,
NSW
,
2198
,
Australia
8
Bringing Modern Style & Glamour to Sydney's Eastern Suburbs.....
504 Bunnerong Road
,
Matraville
,
NSW
,
2036
,
Australia
9
9 Monash Road
,
Gladesville
,
NSW
,
2111
,
Australia
10
Celebrating the latest in skin care, the team at Ella Baché offer an extensive range of treatments focusing on skin solutions as individual as you are. Part of a leading network of elite Ella Baché salons, we provide a full range of services and products.
104 Keira Street
,
Wollongong
,
NSW
,
2500
,
Australia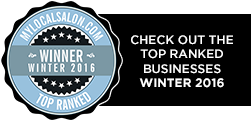 Click here to view interactive map
FAQ
What is mylocalsalon?
Offering the ultimate in convenience and technology, mylocalsalon enables you to search through hundreds of Australian hairdressing salons, beauty salons, spas and wellness centres ...
read more
How does the online booking work?
mylocalsalon is one of the only online directory sites for hair and beauty that is fully integrated with the booking system within each participating business. This means that when you make a booking online, you are making it directly into the salon's appointment book ...
read more
What happens when I register?
The first time you make a booking you will need to register with mylocalsalon. As part of the registration process you will need to accept the standard Terms and Conditions of mylocalsalon. Then, for every booking you will be required to accept the individual business' online booking Terms and Conditions, including their cancellation policy. ...
read more
Read all the FAQ's