Displaying 1 - 10 of 119 results
NEW SOUTH WALES HAIR & BEAUTY SALONS
Find New South Wales hairdressers, beauty salons, nail salons & day spas
Top Ranked Businesses in New South Wales
1
Third Avenue Beauty & Laser specialise in Laser hair reduction, Laser skin rejuvenation, Medi-facials, Clinical Peels and Beauty treatments.
18 Third Avenue
,
Bonny Hills
,
NSW
,
2445
,
Australia
Availability:
Select Book Now to make a booking.
2
Pure Perfection Day Spa offers a wide range of beauty and body treatments.
57 Villliers Street
,
Grafton
,
NSW
,
2460
,
Australia
Availability:
Select Book Now to make a booking.
3
The LaserDerm Clinic is Sydney's leading medical cosmetic clinic with over 15 years' experience.
Suite 1, 99 Canterbury Road
,
Canterbury
,
New South Wales
,
2193
,
Australia
Availability:
Select Book Now to make a booking.
4
Book an appointment in LEVALI,your preferred Salon in EDGECLIFF for a unique experience including a complimentary hair and scalp diagnosis,a customized hair ritual and a tailored hair and scalp at-home routine using high-performance Kérastase products.
Shop 1, 114-118 New South Head Road
,
Edgecliff
,
NSW
,
2027
,
Australia
5
The Center offers body treatments and energy/spiritual healings including Packages, Sacred Stones Massage, Pregnancy,Post Natal & Infant Massage, Remedial Massage, Lymphatic Drainage, Ear Candling, Therapeutic Facials, Intuitive Readings/Energy Healing.
Suite 4, 58 Suakin Drive, Georges Heights Headland Park
,
Mosman
,
NSW
,
2088
,
Australia
6
Be Brilliant...Glow...Be Bright...Excel Simply Shine offers a cosmopolitan feel with our hair and beauty services and surroundings. We pride ourselves in excellence and strive to deliver confidence in all we offer.
500A Peel Street
,
Tamworth
,
NSW
,
2340
,
Australia
7
Mavii Hair is a luxurious Blue Mountains Hair Salon, providing exceptional services by an extremely dedicated and passionate team of Hair Stylists.
134 Macquarie Road
,
Springwood
,
NSW
,
2777
,
Australia
8
2/150-158 Argyle Street
,
Picton
,
NSW
,
2571
,
Australia
Availability:
Select Book Now to make a booking.
9
Smooth Escape is a place to be pampered from Head to Toe. A calm, Tranquil Environment where you can have all your Beauty needs taken care of.
2/6 Alma Road
,
New Lambton
,
NSW
,
2305
,
Australia
Availability:
Select Book Now to make a booking.
10
Clean Canvas offers scar free Laser Tattoo Removal, Hair Removal & Skin Rejuvenation. Our devices are safe & effective on ALL skin types across ALL services. We also offer anti-ageing, pigmentation removal, acne scarring and stretch mark treatments.
Suite 2, Unit 15A, 1 Gregory Hills Drive
,
Gledswood Hills
,
New South Wales
,
2557
,
Australia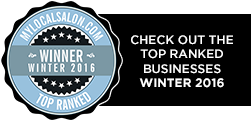 Click here to view interactive map
FAQ
What is mylocalsalon?
Offering the ultimate in convenience and technology, mylocalsalon enables you to search through hundreds of Australian hairdressing salons, beauty salons, spas and wellness centres ...
read more
How does the online booking work?
mylocalsalon is one of the only online directory sites for hair and beauty that is fully integrated with the booking system within each participating business. This means that when you make a booking online, you are making it directly into the salon's appointment book ...
read more
What happens when I register?
The first time you make a booking you will need to register with mylocalsalon. As part of the registration process you will need to accept the standard Terms and Conditions of mylocalsalon. Then, for every booking you will be required to accept the individual business' online booking Terms and Conditions, including their cancellation policy. ...
read more
Read all the FAQ's