Displaying 1 - 6 of 6 results
TASMANIA HAIR & BEAUTY SALONS
Find Tasmania hairdressers, beauty salons, nail salons & day spas
Top Ranked Businesses in Tasmania
1
Victoria's Cosmetic Medical Clinic is Tasmania's pre-eminent Cosmetic Medical Clinic. We offer a wide range of Cosmetic procedures to suit the needs of our clientele. Our reputation as the best is built on a long history of satisfied patients.
Suite 16, 11 High Street
,
Launceston
,
Tas
,
7250
,
Australia
2
AVEDA salon in the heart of Launceston, we provide all hair colouring, cutting and beauty services using Aveda products. We aim to be sustainable and to look after the world and each other
149 St John Street
,
Launceston
,
Tas
,
7250
,
Australia
3
Celebrating the latest in skin care, the team at Ella Baché offer an extensive range of treatments focusing on skin solutions as individual as you are. Part of a leading network of elite Ella Baché salons, we provide a full range of services and products.
7 Criterion Street
,
Hobart
,
Tas
,
7000
,
Australia
4
It shouldn't be a risky business!
160 Collins Street
,
Hobart
,
Tas
,
7000
,
Australia
Availability:

5
Our team of highly skilled therapist's are experts in delivering you to pure relaxation, rejuvenation and results. Facials, Beauty, Massage & Spa Rituals. Body Contouring, Skin Tightening, Micro-Needling. Your complete skin, body and beauty specialists.
31 Cambridge Rd, Shop 6-8 Level 2
,
Bellerive
,
TAS
,
7018
,
Australia
6
From the Latin "Salus Per Aqua", spa means health through water. That's just what Savoy Baths replicates with our famous "Float, Bubble & Steam", a simple bathing routine to wash away the worries.
Lower Level 38 Elizabeth Street
,
Hobart
,
TAS
,
7000
,
Australia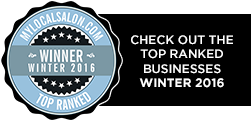 Click here to view interactive map
FAQ
What is mylocalsalon?
Offering the ultimate in convenience and technology, mylocalsalon enables you to search through hundreds of Australian hairdressing salons, beauty salons, spas and wellness centres ...
read more
How does the online booking work?
mylocalsalon is one of the only online directory sites for hair and beauty that is fully integrated with the booking system within each participating business. This means that when you make a booking online, you are making it directly into the salon's appointment book ...
read more
What happens when I register?
The first time you make a booking you will need to register with mylocalsalon. As part of the registration process you will need to accept the standard Terms and Conditions of mylocalsalon. Then, for every booking you will be required to accept the individual business' online booking Terms and Conditions, including their cancellation policy. ...
read more
Read all the FAQ's