Displaying 51 - 60 of 94 results
QUEENSLAND HAIR & BEAUTY SALONS
Find Queensland hairdressers, beauty salons, nail salons & day spas
Top Ranked Businesses in Queensland
1
Award winning beauty, spa, skin & body clinic. We offer affordable elegance at its best. You will feel confident leaving your beauty needs in the hands of the kind, helpful and friendly staff. We are 100% committed to client satisfaction.
Redlynch Central Shopping Centre, Shop 22, 7-15 Larsen Road
,
Cairns
,
Queensland
,
4870
,
Australia
2
Rixon Hair is a Brisbane based haircare brand founded in 2000 by Brad and Sharon Rixon located in the heart of Brisbane CBD.
Level 1, 106 Edward Street
,
Brisbane
,
Qld
,
4000
,
Australia
3
It gives us great pleasure and pride in welcoming you all to THE PLACE HAIRDRESSING AND MAKE UP, Bundaberg's Boutique Salon.
76 Bourbong Street
,
Bundaberg
,
Qld
,
4670
,
Australia
Availability:
Select Book Now to make a booking.
4
Award winning boutique hair salon based on Brisbane's bayside.
Shop H13 Lakeside Shopping Centre, 7 Bunker Road
,
Victoria Point
,
Qld
,
4165
,
Australia
Availability:
Select Book Now to make a booking.
5
Spa Botanica, the multi award winner of the prestigious Tourism Awards for Excellence, leads the way in day spa service. Spa Botanica is a haven of luxurious comfort, with an undeniable sense of style.
Oaks Resort & Spa, Hibiscus Street
,
Hervey Bay
,
Qld
,
4655
,
Australia
6
Intrigue yourself at The Verve Lounge. Exquisite Make-up, Hair and Fashion Styling Boutique.
1A/20 Racecourse Road
,
Hamilton
,
Qld
,
4007
,
Australia
Availability:
Select Book Now to make a booking.
7
Celebrating the latest in skin care, the team at Ella Baché offer an extensive range of treatments focusing on skin solutions as individual as you are. Part of a leading network of elite Ella Baché salons, we provide a full range of services and products.
Shop 220, 1 Main Street
,
Springfield Central
,
Qld
,
4300
,
Australia
Availability:
Select Book Now to make a booking.
8
We understand that ll skins are different.
The Gap Village, 1000 Waterworks Rd
,
The Gap
,
Qld
,
4061
,
Australia
9
Riverside Beauty is a muti-award winning salon situated along the beautiful Noosa River. Stockists of Payot, Issada mineral makeup and CosMedixs paramedical products.
6 Thomas Street
,
Noosaville
,
QLD
,
4566
,
Australia
10
Look and feel great with the Gina T Hair & Beauty Experience. Our award winning Hair and Beauty Salon team have been styling with pride since 1995. At Gina T, we will make sure you leave our salon satisfied!
1/22 Gregory Street
,
Mackay
,
Qld
,
4740
,
Australia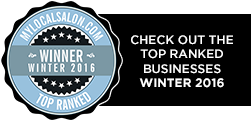 Click here to view interactive map
FAQ
What is mylocalsalon?
Offering the ultimate in convenience and technology, mylocalsalon enables you to search through hundreds of Australian hairdressing salons, beauty salons, spas and wellness centres ...
read more
How does the online booking work?
mylocalsalon is one of the only online directory sites for hair and beauty that is fully integrated with the booking system within each participating business. This means that when you make a booking online, you are making it directly into the salon's appointment book ...
read more
What happens when I register?
The first time you make a booking you will need to register with mylocalsalon. As part of the registration process you will need to accept the standard Terms and Conditions of mylocalsalon. Then, for every booking you will be required to accept the individual business' online booking Terms and Conditions, including their cancellation policy. ...
read more
Read all the FAQ's