Displaying 31 - 40 of 87 results
WESTERN AUSTRALIA HAIR & BEAUTY SALONS
Find Western Australia hairdressers, beauty salons, nail salons & day spas
Top Ranked Businesses in Western Australia
1
Unit 1 / 226 James Street
,
Northbridge
,
WA
,
6003
,
Australia
2
Cut Loose Hair Design is a National and International award winning salon. We specialise in Colour Correction and are at the cutting edge of style and fashion.
29 Sanford Street
,
Geraldton
,
WA
,
6530
,
Australia
3
For the ultimate experience in pampering and beauty needs. Our therapists at DG Beauty are committed to providing our clients with a high standard of quality and professionalism with all our services.
1/4B Macquarie Blvd
,
Hammond Park
,
WA
,
6164
,
Australia
Availability:
Select Book Now to make a booking.
4
7A 15 Perilya Road,
,
Craigie
,
WA
,
6025
,
Australia
5
At Complexions we are committed to providing the highest standards of client care and satisfaction. All specialised treatments come with a complimentary consultation to ascertain your needs and expectations.
Belmont Forum Shopping Centre
,
Cloverdale
,
WA
,
6105
,
Australia
6
Our highly creative and highly trained staff are passionate about their craft and their clients. Located in the vibrant inner-city suburb of North Perth, Edward McMillan Hairdressing brings international style and service to the heart of Perth.
6/476 Fitzgerald Street
,
North Perth
,
WA
,
6006
,
Australia
Availability:
Select Book Now to make a booking.
7
At Revampd Hair Studio we believe every one of our clients should always look and feel amazing and great hair is hair that best compliments you and your look.
Shop 3/27 Davidson Tce
,
Joondalup
,
WA
,
6027
,
Australia
Availability:
Select Book Now to make a booking.
8
At Head Studio Rockingham we aspire to provide a breathtaking experience to all of our guests that is unforgettable. We are an award winning salon and pride ourselves on being fashion leaders, by following as well as creating our own trends.
Shop 4, The Boardwalk 7 Railway Tce
,
Rockingham
,
WA
,
6168
,
Australia
9
The Source Hairdressing is a multi award winning, 5 star, holistic salon, which provides exceptional hairdressing services. Only using the environmentally sustainable Aveda products, that are up to 98% naturally derived.
Suite 2, 99 Flora Terrace
,
North Beach
,
Western Australia
,
6020
,
Australia
Availability:
Select Book Now to make a booking.
10
Kave Studio is an exclusive boutique salon that offers the latest in hair and colouring techniques located in the heart of Mt Lawley. With a team of experts working on you, you will feel at ease knowing your hair and image was created with passion.
62/378 Beaufort Street
,
Perth
,
WA
,
6000
,
Australia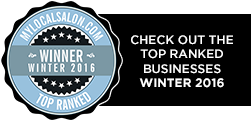 Click here to view interactive map
FAQ
What is mylocalsalon?
Offering the ultimate in convenience and technology, mylocalsalon enables you to search through hundreds of Australian hairdressing salons, beauty salons, spas and wellness centres ...
read more
How does the online booking work?
mylocalsalon is one of the only online directory sites for hair and beauty that is fully integrated with the booking system within each participating business. This means that when you make a booking online, you are making it directly into the salon's appointment book ...
read more
What happens when I register?
The first time you make a booking you will need to register with mylocalsalon. As part of the registration process you will need to accept the standard Terms and Conditions of mylocalsalon. Then, for every booking you will be required to accept the individual business' online booking Terms and Conditions, including their cancellation policy. ...
read more
Read all the FAQ's