Displaying 1 - 10 of 72 results
WESTERN AUSTRALIA HAIR & BEAUTY SALONS
Find Western Australia hairdressers, beauty salons, nail salons & day spas
Top Ranked Businesses in Western Australia
1
338 Hale Rd
,
Wattle Grove
,
WA
,
6107
,
Australia
Availability:
Select Book Now to make a booking.
2
5/2 Tenth Avenue
,
Maylands
,
WA
,
6051
,
Australia
Availability:
Select Book Now to make a booking.
3
Bliss @ Richmond Quarter offers luxury spa services in a beautiful and unique environment unlike any other spa in Perth.
104/1 Silas Street, Richmond Quarter
,
East Fremantle
,
WA
,
6158
,
Australia
4
FSHD is an experienced, friendly relaxed salon that offers full service, low toxic haircare. We are an Aspya De Lorenzo vegan friendly salon. We offer in-depth consultations, hair care products and services for all your hair care needs.
6 Hokin St,
,
Waikiki
,
WA
,
6169
,
Australia
5
NV for Hair is a modern and friendly salon that caters for those that love to look good. We are celebrated for our attention to detail and our personalised service.
19 Dampier Drive,
,
Golden Bay
,
WA
,
6174
,
Australia
Availability:
Select Book Now to make a booking.
6
At Studio 6 we provide our clients with the highest degree of customer service in a professional, comfortable and relaxed atmosphere. We offer a full range of cutting edge services and products with each client receiving a personal one on one consultation
397 Warnbro Sound Avenue
,
Port Kennedy
,
WA
,
6172
,
Australia
7
For the ultimate experience for all your beauty and pampering needs! At DG Beauty, we are committed to providing our clients with a high standard of quality and professionalism with all our services.
1/4B Macquarie Blvd
,
Hammond Park
,
WA
,
6164
,
Australia
8
Blushh Hair Studio is a deluxe Busselton hair boutique dedicated to providing exclusive one on one service. Housing a small team of the South West's most innovative & trend setting stylists.
5/170 Bussell Highway
,
Busselton
,
WA
,
6280
,
Australia
9
3/85 Old Perth Road
,
Bassendean
,
WA
,
6054
,
Australia
10
La Moda welcomes you with friendly and experienced staff. We offer fantastic hair packages with great savings.
Shop 7 Stirling Village Shopng Cntr, Cnr Cedric St & Sanderling St
,
Stirling
,
WA
,
6021
,
Australia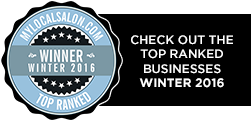 Click here to view interactive map
FAQ
What is mylocalsalon?
Offering the ultimate in convenience and technology, mylocalsalon enables you to search through hundreds of Australian hairdressing salons, beauty salons, spas and wellness centres ...
read more
How does the online booking work?
mylocalsalon is one of the only online directory sites for hair and beauty that is fully integrated with the booking system within each participating business. This means that when you make a booking online, you are making it directly into the salon's appointment book ...
read more
What happens when I register?
The first time you make a booking you will need to register with mylocalsalon. As part of the registration process you will need to accept the standard Terms and Conditions of mylocalsalon. Then, for every booking you will be required to accept the individual business' online booking Terms and Conditions, including their cancellation policy. ...
read more
Read all the FAQ's