Displaying 1 - 7 of 7 results
NEW SOUTH WALES HAIR & BEAUTY SALONS
Find New South Wales hairdressers, beauty salons, nail salons & day spas
Top Ranked Businesses in New South Wales
1
Advanced skincare centre which specialises in high-level skin revision treatments, appearance medicine and nutrition. Our apporach is progressive not aggressive as skin health is the epicentre of our philosophy. Located in Canberra, Australia.
Ct 1/6 Provan Street
,
Campbell
,
ACT
,
2612
,
Australia
2
Located in the small coastal town of Huskisson on the South Coast of NSW, Beautyluscious is the perfect place to indulge in one of our many spa treatments available. A time for you to relax and enjoy our beautiful salon and all it has to offer.
Shop 2/39 Owen Street
,
Huskisson
,
NSW
,
2540
,
Australia
3
Skin health is a journey in which we believe can be a relaxing one.  We pride ourselves in providing advanced skin care treatments with a relaxing spin on them. 
56/1 Braybrooke Street
,
Bruce
,
ACT
,
2617
,
Australia
4
Off London is one of Canberra's leading hairdressing salons with its energetic vibe and reputation to deliver fashion forward designs in a professional, personalised friendly atmosphere.
17-21 University Avenue
,
Canberra
,
ACT
,
2601
,
Australia
5
At Authentix, we believe that when you look good you feel good and when you feel good you look good! Which is why we have combined the two..
Suite 103A/27 Lonsdale Street
,
Braddon
,
ACT
,
2612
,
Australia
6
Cataldo's is a mutli-award winning hair salon, visionary in its approach and attitude.
28 Ainslie Place
,
Canberra City
,
ACT
,
2601
,
Australia
Availability:

7
Cataldo's is a multi-award winning hair salon, visionary in its approach and attitude.
98 Corinna Street
,
Woden
,
ACT
,
2606
,
Australia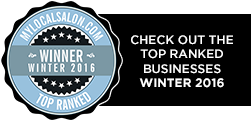 Click here to view interactive map
FAQ
What is mylocalsalon?
Offering the ultimate in convenience and technology, mylocalsalon enables you to search through hundreds of Australian hairdressing salons, beauty salons, spas and wellness centres ...
read more
How does the online booking work?
mylocalsalon is one of the only online directory sites for hair and beauty that is fully integrated with the booking system within each participating business. This means that when you make a booking online, you are making it directly into the salon's appointment book ...
read more
What happens when I register?
The first time you make a booking you will need to register with mylocalsalon. As part of the registration process you will need to accept the standard Terms and Conditions of mylocalsalon. Then, for every booking you will be required to accept the individual business' online booking Terms and Conditions, including their cancellation policy. ...
read more
Read all the FAQ's