The search result is based on Port Pirie, 5540, SA or did you mean:
- Port Pirie West, 5540, SA
- Port Pirie South, 5540, SA
- Port Elliot, 5212, SA
- Port Willunga, 5173, SA
- Port Noarlunga, 5167, SA
- Port Botany, 2036, NSW
- Risdon Park, 5540, SA
- Solomontown, 5540, SA
- Risdon Park South, 5540, SA
1


0.1km from Port Pirie
Full range of beauty services Ella Bache skin care latest in IPl microdermabrasion technology
23 Alexander Street
,
Port Pirie
,
SA
,
5540
,
Australia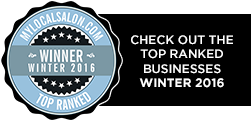 Click here to view interactive map
FAQ
What is mylocalsalon?
Offering the ultimate in convenience and technology, mylocalsalon enables you to search through hundreds of Australian hairdressing salons, beauty salons, spas and wellness centres ...
read more
How does the online booking work?
mylocalsalon is one of the only online directory sites for hair and beauty that is fully integrated with the booking system within each participating business. This means that when you make a booking online, you are making it directly into the salon's appointment book ...
read more
What happens when I register?
The first time you make a booking you will need to register with mylocalsalon. As part of the registration process you will need to accept the standard Terms and Conditions of mylocalsalon. Then, for every booking you will be required to accept the individual business' online booking Terms and Conditions, including their cancellation policy. ...
read more
Read all the FAQ's