Displaying 61 - 70 of 93 results
WESTERN AUSTRALIA HAIR & BEAUTY SALONS
Find Western Australia hairdressers, beauty salons, nail salons & day spas
Top Ranked Businesses in Western Australia
1
Shampers @ three for all your Hairdressing and Beauty needs. Natalie and her team will look after your every Hair and Beauty need with premium services and professional skills, L'Oreal colours & products and Kerastase Stockists.
144 Durlacher Street
,
Geraldton
,
WA
,
6530
,
Australia
2
An elite spa destination with a professional, passionate team, creating overwhelming experiences using only the best in respect for your health and well-being. Providing incredible Spa treatments for men & women including waxing, facials, massage and more
103 George Road
,
Geralton
,
WA
,
6530
,
Australia
3
HeadHunters Hair Studio is an upbeat fun salon located in the heart of Subiaco. We pride ourselves on a high level of customer care and are right on trend with everything that is hair ! We also have parking at the rear of the salon. See you soon.
Shop 3/334 Cambridge Street
,
Wembley
,
WA
,
6014
,
Australia
Availability:
Select Book Now to make a booking.
4
A contemporary barber shop which does all the modern and old classic cuts. Cut throat razor shaves and colours.
Shop G5 160 Central A, 160 St Georges Tce
,
Perth
,
WA
,
6000
,
Australia
Availability:
Select Book Now to make a booking.
5
A one stop salon for all your hair care and beauty needs. Our dedicated and knowledgeable team of stylists are there to expertly give you the hairstyle you are looking for.
2/53 Entrance Road
,
Spearwood
,
WA
,
6163
,
Australia
6
Ground Floor, 79 King Street
,
Perth Cbd
,
WA
,
6000
,
Australia
7
Unit 1 / 226 James Street
,
Northbridge
,
WA
,
6003
,
Australia
8
Shop 4 Marmion Village Shopping Centre, 19 Sheppard Way
,
Marmion
,
WA
,
6020
,
Australia
9
Bliss @ Richmond Quarter offers luxury spa services in a beautiful and unique environment unlike any other spa in Perth.
104/1 Silas Street, Richmond Quarter
,
East Fremantle
,
WA
,
6158
,
Australia
10
Oscar and Ivy Hair Co is a boutique hair studio in the heart of beautiful Busselton.  Receive a transforming hair experience in a personalised, fluid and refreshing  environment. 
32 Prince Street
,
Busselton
,
WA
,
6280
,
Australia
Availability:
Select Book Now to make a booking.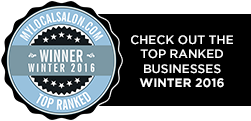 Click here to view interactive map
FAQ
What is mylocalsalon?
Offering the ultimate in convenience and technology, mylocalsalon enables you to search through hundreds of Australian hairdressing salons, beauty salons, spas and wellness centres ...
read more
How does the online booking work?
mylocalsalon is one of the only online directory sites for hair and beauty that is fully integrated with the booking system within each participating business. This means that when you make a booking online, you are making it directly into the salon's appointment book ...
read more
What happens when I register?
The first time you make a booking you will need to register with mylocalsalon. As part of the registration process you will need to accept the standard Terms and Conditions of mylocalsalon. Then, for every booking you will be required to accept the individual business' online booking Terms and Conditions, including their cancellation policy. ...
read more
Read all the FAQ's