Displaying 51 - 60 of 93 results
WESTERN AUSTRALIA HAIR & BEAUTY SALONS
Find Western Australia hairdressers, beauty salons, nail salons & day spas
Top Ranked Businesses in Western Australia
1
Hemisphere's mission is to offer a consistent quality of work with exceptional service and creativity.
Shop 1, 669 Beaufort Street
,
Mount Lawley
,
WA
,
6050
,
Australia
2
Flourish Day Spa offers body treatments, massages, facials, IPL permanent hair removal and skin rejuvenation, manicures, pedicures, waxing and make up. We can arrange packages to have you escaping everyday routine.
Wyndham Resort And Spa 700 Caves Road
,
Dunsborough
,
WA
,
6281
,
Australia
3
emersion floatation day spa is a one stop shop for all your health, hair and beauty needs
2904 Albany Highway
,
Kelmscott
,
WA
,
6111
,
Australia
Availability:
Select Book Now to make a booking.
4
Located in the heart of Albany is one of the most popular up to date salons in the area. Our highly trained beauty therapists endeavor to continually provide the ultimate in relaxation. For all your beauty needs its defiantly glow experience.
366 Middleton Rd
,
Albany
,
WA
,
6330
,
Australia
5
Combines Passion and Creativity, and Inspires looks that will make you feel fantastic everyday . SENSE THE PASSION
25 Meadows Springs Drive
,
Meadows Springs
,
WA
,
6210
,
Australia
6
6B King William Street
,
Bayswater
,
WA
,
6053
,
Australia
7
Djurra is located in a 100 year old heritage building and has 12 hair stations, 4 spa rooms, a relaxation lounge, 2 pedicure spa's and 2 manicure areas. You can now have your hair done in one place to save time.
4, 61 High Street
,
Fremantle
,
WA
,
6160
,
Australia
8
Infinity Beauty Bar Experience the best services provided by our excellent highly qualified friendly staff.
Joondalup Drive, Cnr Cheriton Drive (Shop 5)
,
Carramar
,
WA
,
6031
,
Australia
9
No appointment Necessary. Walk in customers welcome Open 7 days a week. Established 1994 in Western Australia http://www.redzgroup.com.au
Warnbro Shopping Centre Shop 32, 206 Warnbro Sound Avenue
,
Warnbro
,
WA
,
6166
,
Australia
Availability:
Select Book Now to make a booking.
10
Charisma Skin Studio is committed to providing you with exceptional service, professional advice and outstanding beauty products that will exceed your expectations. The staff consistently strives to make client's look and feel extraordinary.
2/51 Cedric St
,
Stirling
,
WA
,
6021
,
Australia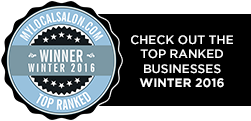 Click here to view interactive map
FAQ
What is mylocalsalon?
Offering the ultimate in convenience and technology, mylocalsalon enables you to search through hundreds of Australian hairdressing salons, beauty salons, spas and wellness centres ...
read more
How does the online booking work?
mylocalsalon is one of the only online directory sites for hair and beauty that is fully integrated with the booking system within each participating business. This means that when you make a booking online, you are making it directly into the salon's appointment book ...
read more
What happens when I register?
The first time you make a booking you will need to register with mylocalsalon. As part of the registration process you will need to accept the standard Terms and Conditions of mylocalsalon. Then, for every booking you will be required to accept the individual business' online booking Terms and Conditions, including their cancellation policy. ...
read more
Read all the FAQ's