Displaying 51 - 60 of 92 results
WESTERN AUSTRALIA HAIR & BEAUTY SALONS
Find Western Australia hairdressers, beauty salons, nail salons & day spas
Top Ranked Businesses in Western Australia
2
Shampers @ three for all your Hairdressing and Beauty needs. Natalie and her team will look after your every Hair and Beauty need with premium services and professional skills, L'Oreal colours & products and Kerastase Stockists.
144 Durlacher Street
,
Geraldton
,
WA
,
6530
,
Australia
3
Where luxury and elegance is met with inclusiveness; where everyone is welcomed.
91 Coode Street
,
Como
,
Western Australia
,
6152
,
Australia
Availability:
Select Book Now to make a booking.
4
An elite spa destination with a professional, passionate team, creating overwhelming experiences using only the best in respect for your health and well-being. Providing incredible Spa treatments for men & women including waxing, facials, massage and more
103 George Road
,
Geralton
,
WA
,
6530
,
Australia
Availability:
Select Book Now to make a booking.
5
Located in the heart of Albany is one of the most popular up to date salons in the area. Our highly trained beauty therapists endeavor to continually provide the ultimate in relaxation. For all your beauty needs its defiantly glow experience.
366 Middleton Rd
,
Albany
,
WA
,
6330
,
Australia
Availability:
Select Book Now to make a booking.
6
We're skin specialists, brow queens and pamper perfectionists. From consultation to finishing touches, we designed our treatments with you in mind. Facebook: https://www.facebook.com/dlxbeautytherapy/ Instagram: @dlxbeautyperth
Shop 45 Alexander Heights S/C, 200 Mirrabooka Ave
,
Alexander Heights
,
WA
,
6064
,
Australia
7
Here at Enlightened Hair Studio we strive to make our clients look and feel their best. Using quality products, we offer a level of hairdressing service and advice that is second to none.
Unit 11 17 Atwick Tce
,
Baldivis
,
WA
,
6171
,
Australia
Availability:
Select Book Now to make a booking.
8
Ground Floor, 79 King Street
,
Perth Cbd
,
WA
,
6000
,
Australia
Availability:
Select Book Now to make a booking.
9
As one of Bunbury's leading salons, it is the years of experience, talented, artistic and expert stylists that set us apart. Customer service is our passion. To make your service a comfortable and enjoyable experience in a relaxed atmosphere.
Shop 5 2 Austral Parade, Leschenault Quays
,
Bunbury
,
WA
,
6230
,
Australia
10
Looking for the highest quality without the highest price tag? Wanting something more than just ordinary from your stylist? We specialise in all aspects of styling and will turn you next visit into a Salon Allure experience!
Shop 3, 5345 Richardson Rd
,
Stoneville
,
WA
,
6081
,
Australia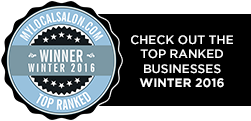 Click here to view interactive map
FAQ
What is mylocalsalon?
Offering the ultimate in convenience and technology, mylocalsalon enables you to search through hundreds of Australian hairdressing salons, beauty salons, spas and wellness centres ...
read more
How does the online booking work?
mylocalsalon is one of the only online directory sites for hair and beauty that is fully integrated with the booking system within each participating business. This means that when you make a booking online, you are making it directly into the salon's appointment book ...
read more
What happens when I register?
The first time you make a booking you will need to register with mylocalsalon. As part of the registration process you will need to accept the standard Terms and Conditions of mylocalsalon. Then, for every booking you will be required to accept the individual business' online booking Terms and Conditions, including their cancellation policy. ...
read more
Read all the FAQ's