Displaying 31 - 40 of 91 results
WESTERN AUSTRALIA HAIR & BEAUTY SALONS
Find Western Australia hairdressers, beauty salons, nail salons & day spas
Top Ranked Businesses in Western Australia
1
Musk Hair is dedicated to providing quality hair colouring and cutting services, good coffee and a friendly, positive space.
1/377 Newcastle Street
,
Northbridge
,
WA
,
6003
,
Australia
2
Flourish Day Spa offers body treatments, massages, facials, IPL permanent hair removal and skin rejuvenation, manicures, pedicures, waxing and make up. We can arrange packages to have you escaping everyday routine.
Wyndham Resort And Spa 700 Caves Road
,
Dunsborough
,
WA
,
6281
,
Australia
3
At Complexions we are committed to providing the highest standards of client care and satisfaction. All specialised treatments come with a complimentary consultation to ascertain your needs and expectations.
Belmont Forum Shopping Centre
,
Cloverdale
,
WA
,
6105
,
Australia
4
Bella's Skin Care Centre is a boutique beauty salon dedicated to your relaxation and well-being. We provide the most professional and caring service in the Fremantle area and are proud of the great results we achieve for our lovely, loyal clients.
Suite 6/163 Canning Highway
,
East Fremantle
,
WA
,
6158
,
Australia
5
Located 5km South from the Perth CBD in East Victoria Park. Oschea Hair & Beauty is a quaint boutique salon nestled amongst the unique Café strip hub. Oschea is a salon that welcomes all clients young and old and caters to their needs.
967 Albany Hwy
,
East Victoria Park
,
WA
,
6101
,
Australia
6
Celebrating the latest in skin care, the team at Ella Baché offer an extensive range of treatments focusing on skin solutions as individual as you are. Part of a leading network of elite Ella Baché salons, we provide a full range of services and products.
1260 Hay Street
,
West Perth
,
WA
,
6000
,
Australia
8
Unit 3/120 Forrest Street
,
Collie
,
WA
,
6225
,
Australia
9
Bliss @ Richmond Quarter offers luxury spa services in a beautiful and unique environment unlike any other spa in Perth.
104/1 Silas Street, Richmond Quarter
,
East Fremantle
,
WA
,
6158
,
Australia
10
Djurra is located in a 100 year old heritage building and has 12 hair stations, 4 spa rooms, a relaxation lounge, 2 pedicure spa's and 2 manicure areas. You can now have your hair done in one place to save time.
4, 61 High Street
,
Fremantle
,
WA
,
6160
,
Australia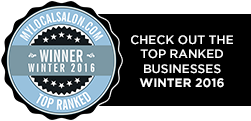 Click here to view interactive map
FAQ
What is mylocalsalon?
Offering the ultimate in convenience and technology, mylocalsalon enables you to search through hundreds of Australian hairdressing salons, beauty salons, spas and wellness centres ...
read more
How does the online booking work?
mylocalsalon is one of the only online directory sites for hair and beauty that is fully integrated with the booking system within each participating business. This means that when you make a booking online, you are making it directly into the salon's appointment book ...
read more
What happens when I register?
The first time you make a booking you will need to register with mylocalsalon. As part of the registration process you will need to accept the standard Terms and Conditions of mylocalsalon. Then, for every booking you will be required to accept the individual business' online booking Terms and Conditions, including their cancellation policy. ...
read more
Read all the FAQ's