Displaying 21 - 30 of 91 results
WESTERN AUSTRALIA HAIR & BEAUTY SALONS
Find Western Australia hairdressers, beauty salons, nail salons & day spas
Top Ranked Businesses in Western Australia
1
We are dedicated to tailoring the perfect path to clear, beautiful skin, and maintaining it for years to come. If you're interested in seeing what we can do for you, call now and book in for free. A 10 minute consultation will change your skin forever
220 Nicholson Road
,
Subiaco
,
WA
,
6008
,
Australia
2
At Tranquility we offer an extensive range of beauty, massage and health treatments.
Shop 16A Beaumaris City Shopping Centre, 68 Constellation Drive
,
Ocean Reef
,
Western Australia
,
6027
,
Australia
Availability:
Select Book Now to make a booking.
3
Full Spectrum Hair Concept. est 2015. a complete experience encapsulating all aspects of the hair world. "unleash yourself into limitless world of creativity"
Shop 4 6 Harrison St
,
Willagee
,
WA
,
6156
,
Australia
4
Have an experience...not just an appointment at the firm.
Unit 5/19 Ogilvie Road
,
Mount Pleasant
,
WA
,
6153
,
Australia
5
Located in the heart of Albany, Adam & Eve is a well established 12 year business. With qualified Beauticians, Masseur and a Cosmetic Nurse, we offer you a wide range of services.
Unit 4/87 Aberdeen Street
,
Albany
,
WA
,
6330
,
Australia
6
Shop 6/87 Waratah Avenue
,
Dalkeith
,
WA
,
6009
,
Australia
7
Set in a boutique salon in Shenton Park we have been providing a bespoke beauty service for over 20 years. Our services range from traditional to advanced & results-driven treatments. We like to think that The Beauty Studio is 'your best kept secret'.
324 Onslow Road
,
Shenton Park
,
WA
,
6008
,
Australia
8
Beauty Bar Byford is a new modern salon in Byford Village Shopping complex. Working with qualified staff with a sense of family this salon will be the new hub of byford.
Shop 4/20 Abernethy Road
,
Coles Byford Village
,
WA
,
6122
,
Australia
9
Bridget black is a beautiful boutique salon conveniently located in North Perth. We aim to deliver the highest quality service and product, without the "day spa" expense.
20 Angove Street
,
North Perth
,
WA
,
6006
,
Australia
10
At Revampd Hair Studio we believe every one of our clients should always look and feel amazing and great hair is hair that best compliments you and your look.
Shop 3/27 Davidson Tce
,
Joondalup
,
WA
,
6027
,
Australia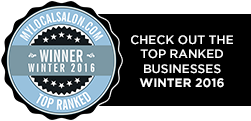 Click here to view interactive map
FAQ
What is mylocalsalon?
Offering the ultimate in convenience and technology, mylocalsalon enables you to search through hundreds of Australian hairdressing salons, beauty salons, spas and wellness centres ...
read more
How does the online booking work?
mylocalsalon is one of the only online directory sites for hair and beauty that is fully integrated with the booking system within each participating business. This means that when you make a booking online, you are making it directly into the salon's appointment book ...
read more
What happens when I register?
The first time you make a booking you will need to register with mylocalsalon. As part of the registration process you will need to accept the standard Terms and Conditions of mylocalsalon. Then, for every booking you will be required to accept the individual business' online booking Terms and Conditions, including their cancellation policy. ...
read more
Read all the FAQ's