Displaying 11 - 20 of 91 results
WESTERN AUSTRALIA HAIR & BEAUTY SALONS
Find Western Australia hairdressers, beauty salons, nail salons & day spas
Top Ranked Businesses in Western Australia
1
At Studio 6 we provide our clients with the highest degree of customer service in a professional, comfortable and relaxed atmosphere. We offer a full range of cutting edge services and products with each client receiving a personal one on one consultation
397 Warnbro Sound Avenue
,
Port Kennedy
,
WA
,
6172
,
Australia
2
36 Paterson Street
,
Mundijong
,
WA
,
6124
,
Australia
3
Exceptional stylists, friendly family salon!
3/99 Lindsay Beach Blvd
,
Yanchep
,
WA
,
6035
,
Australia
4
Cut Loose Hair Design is a National and International award winning salon. We specialise in Colour Correction and are at the cutting edge of style and fashion.
29 Sanford Street
,
Geraldton
,
WA
,
6530
,
Australia
5
Local Colour Hair is a contemporary and exciting new hair studio that brings the service and style that you would expect to find at some of the world's leading salons to a coastal location in Scarborough, Western Australia.
5/172 St Brigids Tce
,
Scarborough
,
WA
,
6019
,
Australia
6
Kave Studio is an exclusive boutique salon that offers the latest in hair and colouring techniques located in the heart of Mt Lawley. With a team of experts working on you, you will feel at ease knowing your hair and image was created with passion.
62/378 Beaufort Street
,
Perth
,
WA
,
6000
,
Australia
7
At our Floreat salon you will be delighted with the total salon experience we offer. From your initial consultation through to complimentary enrichment services, great beverages and bakery treats our clients are treated as VIPs.
436 Cambridge St
,
Floreat
,
WA
,
6014
,
Australia
8
We aim to create a beautiful calming environment offering exceptional hair services using environmentally sustainable Aveda products which are up to 99% ORGANIC.
1/40 Central Walk
,
Joondalup
,
WA
,
6027
,
Australia
9
We are a full service salon in the heart of Albany. We offer a wide range of treatments where there is something for everyone!!
69A Lockyer Ave
,
Albany
,
WA
,
6330
,
Australia
10
We are dedicated to tailoring the perfect path to clear, beautiful skin, and maintaining it for years to come. If you're interested in seeing what we can do for you, call now and book in for free. A 10 minute consultation will change your skin forever
220 Nicholson Road
,
Subiaco
,
WA
,
6008
,
Australia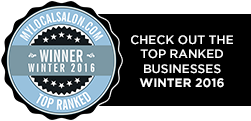 Click here to view interactive map
FAQ
What is mylocalsalon?
Offering the ultimate in convenience and technology, mylocalsalon enables you to search through hundreds of Australian hairdressing salons, beauty salons, spas and wellness centres ...
read more
How does the online booking work?
mylocalsalon is one of the only online directory sites for hair and beauty that is fully integrated with the booking system within each participating business. This means that when you make a booking online, you are making it directly into the salon's appointment book ...
read more
What happens when I register?
The first time you make a booking you will need to register with mylocalsalon. As part of the registration process you will need to accept the standard Terms and Conditions of mylocalsalon. Then, for every booking you will be required to accept the individual business' online booking Terms and Conditions, including their cancellation policy. ...
read more
Read all the FAQ's