Displaying 1 - 10 of 187 results
VICTORIA HAIR & BEAUTY SALONS
Find Victoria hairdressers, beauty salons, nail salons & day spas
Top Ranked Businesses in Victoria
1
Zebu Hair has been successful in winning numerous hairdressing and business enterprise awards for excellence within the Bayside South-East region of Melbourne for 20 years.
121 Mckinnon Rd
,
Mckinnon
,
VIC
,
3204
,
Australia
2
With over 20 years experience and internationally trained, owner operator Melissa Whatford offers all aspects of advanced Beauty Therapy to suit your individual needs.
Shop 8, 127 Fryers Street
,
Shepparton
,
Vic
,
3630
,
Australia
3
Morgan is an all round perfectionist dedicated to bringing out and enhancing your natural beauty. She has over 8 years experience in the beauty industry. Specializing in brow tattooing, eyelash extensions, brow sculpting and much more!
Woodvale Road
,
Boronia
,
Vic
,
3155
,
Australia
4
We are committed to creating your ideal salon experience. We work hard to provide a very professional environment which is friendly, warm and welcoming. With experience and expertise we are able to offer clients a style that suits individual needs.
37 Station Street
,
Malvern
,
Vic
,
3144
,
Australia
5
TOMARS, a place of integrity and passion. A leader in the industry, consistently striving to deliver the very best. Experience OUR difference....established 1987.
14 Gloucester Avenue
,
Berwick
,
Vic
,
3806
,
Australia
6
A boutique skin & laser clinic specialising in non-surgical aesthetic procedures and beauty therapies!
1206 High Street
,
Armadale
,
Vic
,
3143
,
Australia
7
House of Maxx pays focus to the health of the skin both internally & externally. All facial treatments are a customised dermatological treatment that uses advanced products specifically created to cater to your skins needs & concerns.
1207 High Street
,
Armadale
,
Vic
,
3143
,
Australia
8
186 Corio Street
,
Shepparton
,
Vic
,
3630
,
Australia
9
Local, friendly and professional salon with top of the range L'oreal hair colour and products, including Kerastase Paris.
52 Turner Road, Shop 2
,
Langwarrin
,
Vic
,
3910
,
Australia
10
Amicus Hair and Beauty is located in the beautiful town of Mornington. Professional and friendly we offer service in hair & beauty. We are an exclusive AVEDA salon and also stock Zenz Alternative (environmentally positive organic products)
Shop 3, 45 Main Street
,
Mornington
,
Vic
,
3931
,
Australia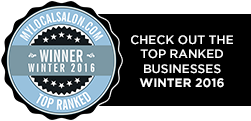 Click here to view interactive map
FAQ
What is mylocalsalon?
Offering the ultimate in convenience and technology, mylocalsalon enables you to search through hundreds of Australian hairdressing salons, beauty salons, spas and wellness centres ...
read more
How does the online booking work?
mylocalsalon is one of the only online directory sites for hair and beauty that is fully integrated with the booking system within each participating business. This means that when you make a booking online, you are making it directly into the salon's appointment book ...
read more
What happens when I register?
The first time you make a booking you will need to register with mylocalsalon. As part of the registration process you will need to accept the standard Terms and Conditions of mylocalsalon. Then, for every booking you will be required to accept the individual business' online booking Terms and Conditions, including their cancellation policy. ...
read more
Read all the FAQ's