Displaying 1 - 10 of 42 results
SOUTH AUSTRALIA HAIR & BEAUTY SALONS
Find South Australia hairdressers, beauty salons, nail salons & day spas
Top Ranked Businesses in South Australia
1
24 Old Coach Road
,
Aldinga
,
SA
,
5173
,
Australia
2
Enter an oasis of frivolity & glamour. Offering Make-up, Hair styling, Lash Extensions, Brow Shaping & Tinting and Spray Tans. Channel your inner queen, glamazon or unicorn. We invite you to TREAT YO SELF!
324 Unley Road
,
Hyde Park
,
South Australia
,
5061
,
Australia
3
Enough is a hair salon and wellness studio based in Hyde Park. We believe in eco-sustainability as the future and committed to taking a holistic approach to all things hair.
298 - 300 Unley Road
,
Hyde Park
,
South Australia
,
5061
,
Australia
Availability:
Select Book Now to make a booking.
4
At The Salon, we're all about creating beautiful hair. We understand the importance of working with what you've got to create the best hair for you. We're about natural, relaxed, effortless style, not fake, overdone hair.
91 Arthur Street
,
Magill
,
SA
,
5072
,
Australia
Availability:
Select Book Now to make a booking.
5
Welcome to Sphere Medi Spa. We are a modern salon with the latest technology, we provide you a nurturing Spa Experience and Aesthetic Results!
7 A & B 211 Old South Road
,
Old Reynella
,
South Australia
,
5161
,
Australia
6
At Adelaide's first concept salon, Rogue & Regal, it is our mission to take you on your own personalised journey led by our hair, beauty, Brow & cosmetic professionals.
292, Sir Donald Bradman Drive
,
Brooklyn Park
,
SA
,
5032
,
Australia
7
The team at OV has the experience to capture the essence of each client's individuality to create a superior image that makes a difference.
98 The Parade
,
Norwood
,
SA
,
5067
,
Australia
8
Welcome to Medicine of Cosmetics! Adelaide's premier clinic for Injectable Anti-Wrinkle injections, Dermal Fillers, Platelet Rich Plasma (PRP) Facials, Skin Needling, Laser Hair Removal, Cosmetic Tattooing & Beautification treatments.
301 Payneham Road
,
Royston Park
,
SA
,
5070
,
Australia
9
Axis Hair & Beauty is an Adelaide based Eastern suburbs award winning salon. Specialists in hair dressing & beauty treatments we have been hair and beauty specialists for over 35-years.
177 Glen Osmond Road
,
Frewville
,
SA
,
5063
,
Australia
10
Three words encapsulate the ethos and philosophy of Hair Artistique: Creative - Distinctive - Individual
War Memorial Drive
,
North Adelaide
,
S A
,
5006
,
Australia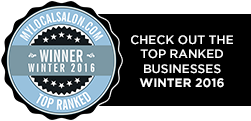 Click here to view interactive map
FAQ
What is mylocalsalon?
Offering the ultimate in convenience and technology, mylocalsalon enables you to search through hundreds of Australian hairdressing salons, beauty salons, spas and wellness centres ...
read more
How does the online booking work?
mylocalsalon is one of the only online directory sites for hair and beauty that is fully integrated with the booking system within each participating business. This means that when you make a booking online, you are making it directly into the salon's appointment book ...
read more
What happens when I register?
The first time you make a booking you will need to register with mylocalsalon. As part of the registration process you will need to accept the standard Terms and Conditions of mylocalsalon. Then, for every booking you will be required to accept the individual business' online booking Terms and Conditions, including their cancellation policy. ...
read more
Read all the FAQ's