Displaying 1 - 10 of 42 results
SOUTH AUSTRALIA HAIR & BEAUTY SALONS
Find South Australia hairdressers, beauty salons, nail salons & day spas
Top Ranked Businesses in South Australia
1
Boutique medispa offering highly qualified cosmetic services.
91B Arthur Street
,
Magill
,
SA
,
5072
,
Australia
2
All our treatments involve redeemable consultations and we are mindful of your time & budget to get amazing results for you. From then on you are in our capable hands & you will get the results you dream of.
Shop 3, 1328 North East Road
,
Tea Tree Gully
,
SA
,
5091
,
Australia
Availability:
Select Book Now to make a booking.
3
Beauty salon located in the Western suburbs of Adelaide,
131 - 133 Grange Road
,
Beverley
,
SA
,
5009
,
Australia
4
The team at OV has the experience to capture the essence of each client's individuality to create a superior image that makes a difference.
98 The Parade
,
Norwood
,
SA
,
5067
,
Australia
5
A boutique organic salon built with a conscience in Adelaide's North-East. We're dedicated to bridging the gap between luxury and organic to bring you high quality colours that compliment precision cuts to suit YOU.
2 Friendship Cresent
,
Wynn Vale
,
SA
,
5127
,
Australia
6
At Adelaide's first concept salon, Rogue & Regal, it is our mission to take you on your own personalised journey led by our hair, beauty, Brow & cosmetic professionals.
292, Sir Donald Bradman Drive
,
Brooklyn Park
,
SA
,
5032
,
Australia
7
Located on Vibrant Unley Rd Parkside, Brand new fitout with our amazing team, we would love to meet you, so pop in and be styled by one of Adelaide's leading Salons.
35 Unley Rd
,
Parkside
,
SA
,
5063
,
Australia
8
At The Salon, we're all about creating beautiful hair. We understand the importance of working with what you've got to create the best hair for you. We're about natural, relaxed, effortless style, not fake, overdone hair.
91 Arthur Street
,
Magill
,
SA
,
5072
,
Australia
9
We are a small personal salon that goes above and beyond for our clients. We are an award winning salon and pride ourselves on our services and client care. Thankyou for the support from our existing clients and we look forward to meeting new clients.
120 Winston Ave
,
Melrose Park
,
SA
,
5039
,
Australia
10
At Hair Masters we listen, suggest and never get complacent about your hair and beauty. Our award-winning team will give you the service you deserve.
1/94 Newton Road
,
Campbelltown
,
SA
,
5074
,
Australia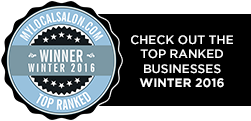 Click here to view interactive map
FAQ
What is mylocalsalon?
Offering the ultimate in convenience and technology, mylocalsalon enables you to search through hundreds of Australian hairdressing salons, beauty salons, spas and wellness centres ...
read more
How does the online booking work?
mylocalsalon is one of the only online directory sites for hair and beauty that is fully integrated with the booking system within each participating business. This means that when you make a booking online, you are making it directly into the salon's appointment book ...
read more
What happens when I register?
The first time you make a booking you will need to register with mylocalsalon. As part of the registration process you will need to accept the standard Terms and Conditions of mylocalsalon. Then, for every booking you will be required to accept the individual business' online booking Terms and Conditions, including their cancellation policy. ...
read more
Read all the FAQ's