Displaying 1 - 10 of 122 results
QUEENSLAND HAIR & BEAUTY SALONS
Find Queensland hairdressers, beauty salons, nail salons & day spas
Top Ranked Businesses in Queensland
2
FANTASTIC TREATMENTS - GREAT RESULTS - SPECIFIC PRODUCTS The combination of the three makes all the difference! If it is for an eyebrow wax or a luxurious treatment, we will put 100% into each and every client!
145 Stanley St
,
Townsville City
,
Queensland
,
4810
,
Australia
3
At I Heart Hair we pride ourselves on offering the highest level of hairdressing, professional advice and service in a relaxed and comfortable atmosphere. Our goal is to provide our clients with an individual look that suits them and their lifestyle.
18 Commerce Drive
,
Browns Plains
,
Qld
,
4118
,
Australia
4
Arc is a luxury hairdressing salon that incorporates a relaxing wine bar where clients can unwind. The team at Arc are passionate about what they offer and understand that your hairstyle and image defines who you are.
Shop 3, 146 Racecourse Road
,
Ascot
,
Qld
,
4007
,
Australia
5
Prepare to pamper yourself in a world of Luxury and personal Indulgence. with expert styling tips and packages for any special occasion or treat yourself... because you deserve it!
4/17 Brooks Street
,
Whitfield
,
Qld
,
4870
,
Australia
6
At Frangipani Cutting Crew we have a positive, relaxing atmosphere. This results in a friendly environment for our clients and great creativity for the team.
Shop 4 115 Bulcock St
,
Caloundra
,
Qld
,
4551
,
Australia
7
The experienced team at Headonism are about taking the worry out of your hair care. We will colour, cut and style your hair and educate you on how to maintain your style. All you need do is relax and enjoy the experience! Just try us!
Shop 3, 99 Kedron Brook Road, (Next Door To Coffee Club)
,
Wilston
,
QLD
,
4051
,
Australia
8
Sorrento Shopping Village, 6/20 Bundall Road
,
Bundall
,
Qld
,
4217
,
Australia
9
Aspiring to provide you with the ultimate in salon experiences. Individual service, excellent standard of hairdressing and a very friendly, luxurious environment.
Shop 1, 54-56 Aerodrome Rd
,
Maroochydore
,
Qld
,
4558
,
Australia
10
AWARD WINNING HAIRDRESSERS
26 Tedder Avenue
,
Main Beach
,
Qld
,
4217
,
Australia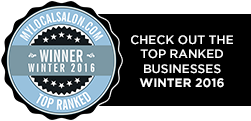 Click here to view interactive map
FAQ
What is mylocalsalon?
Offering the ultimate in convenience and technology, mylocalsalon enables you to search through hundreds of Australian hairdressing salons, beauty salons, spas and wellness centres ...
read more
How does the online booking work?
mylocalsalon is one of the only online directory sites for hair and beauty that is fully integrated with the booking system within each participating business. This means that when you make a booking online, you are making it directly into the salon's appointment book ...
read more
What happens when I register?
The first time you make a booking you will need to register with mylocalsalon. As part of the registration process you will need to accept the standard Terms and Conditions of mylocalsalon. Then, for every booking you will be required to accept the individual business' online booking Terms and Conditions, including their cancellation policy. ...
read more
Read all the FAQ's