Displaying 1 - 10 of 125 results
QUEENSLAND HAIR & BEAUTY SALONS
Find Queensland hairdressers, beauty salons, nail salons & day spas
Top Ranked Businesses in Queensland
1
Welcome to The Skin Fitness Clinic we are highly trained and qualified paramedical aestheticians. Are committed to providing you with the ultimate cosmetic procedures using the latest in technology and products.
Located Inside Clem Jones Centre, 56 Zahel St
,
Carina
,
Qld
,
4152
,
Australia
Availability:
Select Book Now to make a booking.
2
Hannah Cashmore offer's a warm welcome and is excited to share her expertise and help you to reach all of your beauty and aesthetic desires.  Hannah's combined passion, vast knowledge and experience within the cosmetic beauty industry are second to none. 
City Pods, 9B/249 Scotsdale Drive
,
Robina
,
Qld
,
4226
,
Australia
3
FANTASTIC TREATMENTS - GREAT RESULTS - SPECIFIC PRODUCTS The combination of the three makes all the difference! If it is for an eyebrow wax or a luxurious treatment, we will put 100% into each and every client!
145 Stanley St
,
Townsville City
,
Queensland
,
4810
,
Australia
4
Yes Please Skin.Beauty.Health Home of The Yes Please Skin System
Shop 2, 66 Bloomfield Street
,
Cleveland
,
Qld
,
4163
,
Australia
5
Welcome to Fresh Hair, where we pride ourselves on our extremely high standards and professional approach to everything we do.
Shop 4, 92 Hyde Road
,
Yeronga
,
Qld
,
4104
,
Australia
6
Ipseity Hair Hairdressing at its finest
578 Mulgrave Road
,
Woree
,
Qld
,
4868
,
Australia
7
Groom Barbershop is more than a traditional Barbershop, delivering everything for all Men's Grooming needs.
Shop 10/48 Gladstone Road, Allenstown
,
Rockhampton
,
Qld
,
4700
,
Australia
8
Silk Studio is a boutique styled salon located in the heart of Mount Cotton, a salon where providing our clients, both ladies & gents with the highest quality treatments and of course a warm & friendly welcome is our number one priority.
14 Helicia Circuit, Silky Oaks Estate
,
Mt Cotton
,
Qld
,
4165
,
Australia
9
We specialise in treatments and pharmacology for skin health, skin tags, benign skin lesions, pre and post surgical care and the management of premature ageing, medical equipment for the removal and improvement of clinical and aesthetic skin conditions.
15/1932 Logan Road
,
Upper Mount Gravatt
,
Qld
,
4122
,
Australia
Availability:
Select Book Now to make a booking.
10
Hairdressers at Work is a boutique hair salon with a fabulous team of professional stylists and colourists. Hairdressers at Work is located in the heart of Cairns City at 42b McLeod Street, Cairns.
42B Mcleod Street
,
Cairns
,
QLD
,
4870
,
Australia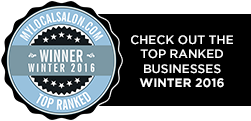 Click here to view interactive map
FAQ
What is mylocalsalon?
Offering the ultimate in convenience and technology, mylocalsalon enables you to search through hundreds of Australian hairdressing salons, beauty salons, spas and wellness centres ...
read more
How does the online booking work?
mylocalsalon is one of the only online directory sites for hair and beauty that is fully integrated with the booking system within each participating business. This means that when you make a booking online, you are making it directly into the salon's appointment book ...
read more
What happens when I register?
The first time you make a booking you will need to register with mylocalsalon. As part of the registration process you will need to accept the standard Terms and Conditions of mylocalsalon. Then, for every booking you will be required to accept the individual business' online booking Terms and Conditions, including their cancellation policy. ...
read more
Read all the FAQ's