Displaying 1 - 10 of 152 results
NEW SOUTH WALES HAIR & BEAUTY SALONS
Find New South Wales hairdressers, beauty salons, nail salons & day spas
Top Ranked Businesses in New South Wales
1
Welcome to Cloud9 Skin & Beauty. We offer high quality and professional beauty treatments by senior and passionate therapists
27 Auburn Street
,
Moree
,
NSW
,
2400
,
Australia
2
Retreat to Beauty is located inside World Gym Penrith, providing services such as Laser hair removal, waxing, tinting, Facials, Advanced Skin Treatments, Tanning, Massage, Teeth Whitening, Makeup, Manicure, Pedicures & more
6 Peachtree Rd, Inside World Gym
,
Penrith
,
NSW
,
2750
,
Australia
3
We offer a complete hair service from cutting/colouring right through to hair straightening and extensions. We also have an automated Spray Tan machine.
Shop 1, 162 Waminda Avenue
,
Campbelltown
,
NSW
,
2560
,
Australia
4
To give Personalised attention in a welcoming environment that values individual Beauty.
153B Centre Street
,
Casino
,
NSW
,
2470
,
Australia
5
Hair By Maddi is an award winning new and modern salon located in Muswellbrook, NSW that offers a range of beautiful hair services!
Shop 22 Campbells Corner 60-82 Bridge St
,
Muswellbrook
,
NSW
,
2333
,
Australia
6
At Hair by Anne we are about the over all look and cover all aspects of hair and beauty. We specialise in Bridal and Formal occassions.
Shop 7 169 Annangrove Road
,
Annangrove
,
NSW
,
2156
,
Australia
7
Smooth Escape is a place to be pampered from Head to Toe. A calm, Tranquil Environment where you can have all your Beauty needs taken care of.
2/6 Alma Road
,
New Lambton
,
NSW
,
2305
,
Australia
8
Ayurvedic & Natural Therapies Clinic specialising in Women, Fertility, Pregnancy, Motherhood & Babies. Naturopathic, Nutritional, Ayurvedic Consultations, Body Therapies including Facials & Massage.
17 Myahgah Road
,
Mosman
,
NSW
,
2088
,
Australia
9
SOUK & BIZAR HAIR, EST 2008. A decade in a successful boutique salon in Crows Nest. We promise to bring you outstanding service with the highest end of hairdressing in a professional, but warm atmosphere.
17 Falcon St (Crn Alexander St)
,
Crows Nest
,
NSW
,
2065
,
Australia
10
Pure Perfection Day Spa offers a wide range of beauty and body treatments.
57 Villliers Street
,
Grafton
,
NSW
,
2460
,
Australia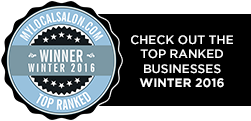 Click here to view interactive map
FAQ
What is mylocalsalon?
Offering the ultimate in convenience and technology, mylocalsalon enables you to search through hundreds of Australian hairdressing salons, beauty salons, spas and wellness centres ...
read more
How does the online booking work?
mylocalsalon is one of the only online directory sites for hair and beauty that is fully integrated with the booking system within each participating business. This means that when you make a booking online, you are making it directly into the salon's appointment book ...
read more
What happens when I register?
The first time you make a booking you will need to register with mylocalsalon. As part of the registration process you will need to accept the standard Terms and Conditions of mylocalsalon. Then, for every booking you will be required to accept the individual business' online booking Terms and Conditions, including their cancellation policy. ...
read more
Read all the FAQ's